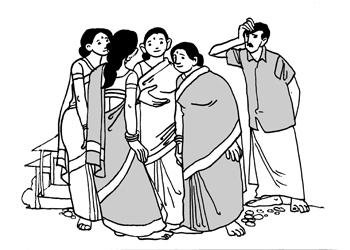 credit: Mahila Samakhya
Is Alcohol Prohibition Possible?
Read in ಕನ್ನಡ.
In 1992, the literacy movement in Mysore district was in full-swing. I was deputed from my college to be the Mysore district co-ordinator for six months and worked as full-time activist for women's literacy.
In the first phase, the programme aimed to train school teachers to teach adult learners at night schools, educate women members of village panchayats on the importance of literacy, create awareness about law and health, persuade them to send children to school instead of making them bonded labour, convince adults to attend night school and publish textbooks for neo-literates. We used speeches, songs and skits as part of our campaign.
Bureaucrats, politicians and literacy activists participated in the programme. Many provocative speeches against alcohol prohibition were delivered during these meetings.
One day, in a village in Heggadadevakote Taluk, women came together to block a liquor-carrying lorry. They sat on the middle of the road and did not allow the vehicle to pass.
One woman forcefully entered to the village panchayat office and pleaded with them to telephone the District Collector. The office staff helped her contact the DC.
Her voice trembling, and sweating with anxiety, the daily wage woman worker begged him to support their anti-alcohol movement. In no time, the news of these bold coolie women spread like wildfire across the village. Male leaders gathered in places to discuss this new behaviour. In the evening, some of them approached the returning lorry, brought back packets of alcohol and made their women sell them. And not just that, they identified and caught the husbands of these brave women and plied them with alcohol till they were satiated.
"Women should stay within set limits. How can they come to streets and lower the honour of the house? Go home and make your wife understand this properly," they said, packing them off. Freely sozzled, these man-lions tottered home. Unable to go to work that day, the woman who took charge of leading the protest, begged someone and borrowed a seru of ragi, ground it and went to fetch water from the well. Right then, her unsteady husband reached home, seized the ragi, caught hold of the kerosene next to it, and sat to mix the two, quite unaware of what he was doing. Returning home with the water, the woman saw her husband from the threshold of their hamlet and was furious. As though waiting for her, he said, "You went to stop the lorry? Now look at how much I have drunk - more than usual." He grabbed her hair and dragged her, "So you're a leader, are you? A mahaleader! Where was my hot water when I came to the door? You've gone now to get water, have you?," he kept hitting her. Hearing her screams, the neighbours came to separate them.
Some college students, who hadn't yet sacrificed themselves to alcohol, identified the men responsible for getting this fellow drunk and went to register a complaint at the police station. When the police refused, the young men informed the literacy activists in Mysore.
By the time we got together to leave Mysore, it was eight in the night. It was ten when we reached the village and entered the woman's house. It was a small hamlet with just one room. A short partition separated the kitchen from rest of the room.
There wasn't enough space for all of us who had arrived from the city. The smell of kerosene was suffocating. Only Uma Mahadevan and I could enter the house. Uma had ranked second in the Indian civil service examination that year and was appointed probationary officer for the Mysore district. She took an active part in the literacy movement.
Uma and I entered and sat inside. By this time, the intoxication had lifted, and the husband was sitting with his head down. Listening to our sympathetic words, the woman's distress increased. Loudly, she cursed her husband, all the men of the world, the alcohol mafia, the government, and her own birth as a woman. Noticing our vehicle parked in front, more women came out.
They glowered at me, who had given a speech earlier calling to, "Stop alcohol from entering the village!" "Madam, we listened to you and look at our fate. The lorry didn't come, but a river of alcohol is flowing through every house in the village today. You tell us how the alcohol reached here? You give your speeches and go away to your city. Look at our condition," and they continued to raise their voices against me. In the end, we did not know who was saying what. It was already 11PM. This was the first time in our lives that we were facing such a situation. Mine is a crazy idealism, whereas Uma had been trained as an officer. Uma stood up and tried to pacify them. Then I raised my voice and struggled to explain, "This madam here is your district officer, she will help you!"
People began to get a little faith. "We will register a police complaint right now, we will prevent alcohol from entering the village tomorrow also, we will speak to the District Collector. Don't be afraid, we are here to support you," she said, trying to comfort the women. We came to H.D.Kote, filed a complaint and returned home. On that journey back, Uma and I were unable to exchange a single word. As a top bureaucrat, Uma dreamed of improving women's lives and worked towards it. While I was teaching students, I had filled my head with ideals.
My dream as a literacy activist to raise awareness about alcohol prohibition withered while it was still a bud. No one can stop alcohol consumption; we have seen this since my grandfather's time. "At least keep the alcohol shop outside the village, Madam. By the time they return home, some of their intoxication will come down, and they will beat us less. Women have to toil for the family anyway. Should we send our children to school or go learn letters ourselves? Who wants all of this, tell me?" The women spoke one after the other, wringing their hands, frustration writ across their faces. I heard the sadness in their voices. This scene kept returning to my eyes.
It was one o'clock when I reached home. My husband was sitting at door, without having had dinner. Swallowing his anger, he objected mildly at the social worker-enthusiast who came home in the middle of the night, and let me in.
The next day, we discussed the experience with the DC. He supported the coolie women workers and spoke to the liquor contractor. Those clever cheats contacted the Vidhana Soudha directly and continued their business.
The government claims to undertake development works with the revenue collected from liquor sales. Government figures tell us that expenditure on development and health exceeds liquor revenue. I remember Gandhiji's words, "If liquor revenue is allotted towards education, let us reject that sinful money."
Drinking has destroyed the lives of women and children. Violence and harm are carried out under the influence of alcohol. It makes poor women's lives pathetic. The world of women waits for political will to bring about social change.
H. J. Saraswathi lives in Mysore and retired as Kannada lecturer from a J.S.S. institute.
Understory thanks Jayashree Jagannatha for working with us on the translation of this story.
23 June 2021