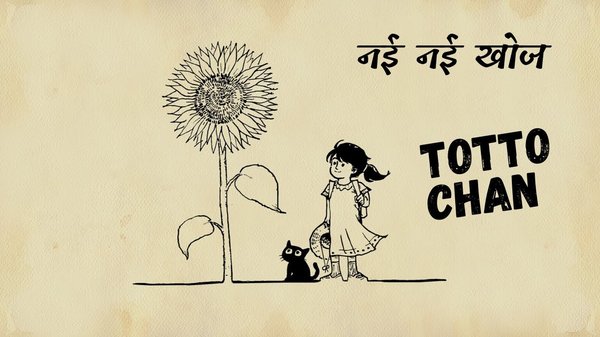 Still from Yun Hi's series on Toto Chan in Hindi: https://youtu.be/jpVVAGVNU0Q
Together, Atop a Tree
I'm a student in Class XI, and have studied in a conventional school. I've tried to make the most of it. The past two years of online schooling have made me nostalgic for the 'good-old days'.
Now, I can see glimmers of normalcy such as resumption of offline exams and revision classes. I've had time to reflect about school and how it impacts our life.
I loved the conversational style of the book. It captures the Krishnamurti schools intimately. Though I haven't been to them, an image was painted in my mind. The myriad examples helped me understand the philosophy behind the initiatives.
Reading about the down-to-earth atmosphere and liberal practices of the schools, they seem like a dream for any child.
The book reminded me of Totto-chan by Tetsuko Kuryonagi. In one of the most touching stories, she recalls how she invited a friend suffering from polio to climb her tree. They climbed the tree with some difficulty but it gave them both new experiences. I imagined the joy of watching the sunset and trading life experiences with someone different yet so similar to us.
Mr. Kobayashi's Tomoe was flexible and understood the student's needs. I found some practices similar to the ones adopted at the Rishi Valley school. I hope these methods can be adopted in conventional schools too. The poetry sessions not only inculcate an ability to express oneself through words but also give wings to the child's imagination. Astachal gives them time to reflect upon various things-time that we scarcely have in this fast-paced life.
It's quite obvious that the environment of my institute doesn't go with Krishnamurti's ideology of holistic education. Academics are the first priority here. Junior college begins at 7 am and I come home by 6pm. Hopefully, by the time my younger cousin grows up, school will become flexible and fun.
I agree that nature walks make students aware and sensitive to our environment. If they don't notice the declining number of birds, squirrels hit by cars or bleaching corals, how would they understand the gravitas of the climate change? Documentaries and textbooks are all good but real-life experiences leave a lasting impression on young minds.
Inventiveness was encouraged at my school too- we had school newspapers, clubs and cultural activities but it was within the framework of our grading system.
Giving up comparison and unhealthy competition seems like a revolutionary method. But a child feels secure when their opinions and their creative expression are made to matter too. A non-hierarchical structure and open discussions are the need of the hour. The conclusion or outcome isn't everything; we mustn't sideline the train of thought. As mentioned in the book, we emphasise 'achievement' more than anything else. These are the terms of 'individualism' today and the joy of working together has become confined to group projects or sports. It is usually the talented ones who are in the front. We conveniently forget the ones who aren't as 'good'.
Cliques are a common feature at my school. We connect with some people really well. However, this becomes problematic when there isn't any interaction with other kids outside a close-knit group. We need to encourage inclusivity and permeability- something I found the institutions attempted by bringing children from two different schools from different economic strata.
Sometimes the methods become mere boxes to tick off the agenda list. Though it may be tiresome, devoting time and energy to certain tasks is worth it. Take the example of Parent-Teacher Meetings at school. The topic of discussion is usually limited to the behaviour of the student and grades. PTMs should be a platform for parents and teachers to work together to create a safe and interactive realm of learning rather than a contrived discussion of report cards.
Till 10th grade, I was encouraged to take part in extra-curricular activities and read books but now that has been replaced by piles of Physics-Chemistry-Mathematics (PCM) books. There is a sports centre near my home and I have made some new friends too. We know that high school is the time to start thinking about our prospective careers thanks to relentless reminders and warnings but it doesn't have to become a pressure cooker. I appreciate the Krishnamurti philosophy, yet it is undeniable that high-schoolers have to prepare for competitive exams as well. How do we balance a career-oriented curriculum while making sure that we aren't turning into robots but into sensitive and aware young people?
In my experience, a philosophy of simplicity and radical, subtle changes in the ways we learn and understand our surroundings will make the world a better place. We need to take time to introspect and appreciate the people and opportunities in our life, to inculcate sensitivity and practice inclusivity in everyday life.
***
Sayee Bhakare is a Class XI student, and loves literature and cinema. She is passionate about the environment, and is considering ways to make an ethical living while contributing to save it.
5 July 2022